Hull: UK City of Culture 2017
'Think you know Hull? Think again.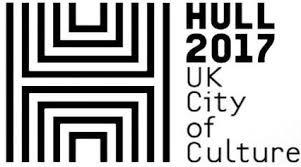 This year for the August bank holiday, we decided to take a first visit to Hull. I got out of the car and instantly sensed pride, creativity and heritage.
The city has pulled out all the stops to ensure a cultural legacy remains after its year in the spotlight. There are banners, flags and signs everywhere leaving no doubt in the mind of the visitor and local alike, that we are in the presence of something special.The language is brimming with love and positivity and something is happening on every street corner and in between.
I'm drawn to the cream telephone boxes, rather than red, because this is a city that's avoided BT. That has got to be a reason to love it!
Heritage
Must-sees are the Humber Bridge (even if you don't walk across it), The Deep (even if you don't go in it), The Wilberforce House in the gorgeous Museum Quarter, Hull Maritime Museum and I got a great Twitter reaction when I mentioned what they are trying to do to preserve the BHS mural. (just so much love!).
Other highlights include the House of Kings and Queens exhibit for LGBT50. It's now moved to Humber Street Gallery which itself had the excellent 'State of Play' installation in August. All in the Fruit Market neighbourhood, which is impossible to ignore if you like to eat. There's a great pre-loved clothes store where they went out of their way to dig out every vintage converse shoe in my beloved's size. Plus there's a shop that sells Birmingham's Honest skincare products.
Coffee
We were glad to get into Two Gingers Coffee House when we arrived in Hull on Saturday afternoon as then shut for the rest of the weekend! It's a bare looking Scandi-styled place with a warm welcome and I love a place that offers cookies with coffee. Other than that, there was coffee at the Humber Street Gallery, which we stumbled into when exploring Hull. Outside the city, there is the excellent North Man Coffee in Bridlington.
Food
The best breakfast place is Nibbles. Actually one of our favourite breakfast experiences of the year, in the UK at least. There was an excellent exhibition around the corner too.
The Madras Restaurant, out in the burbs has exactly the good service that the reviews mention.
Excursions
The breakfast at the Georgian Rooms in Bridlington is a delight and Beverley is a place to drive too and possibly even a place to stay for us next time.
From the pop-up tourism office to the coffee shops to the museums, everywhere had a hug of a welcome for us; Hull is definitely open for business. They had daily handouts on what was going on that day; there was so much and sometimes you just need it laid out on a piece of A4. I was just missing the old highlighter pen. About every ten minutes I found myself saying, 'this is a good idea'.
Hull shows other (bigger) cities (mentioning know names) how to do it.This was an amazing experience and I'm going back for sure.